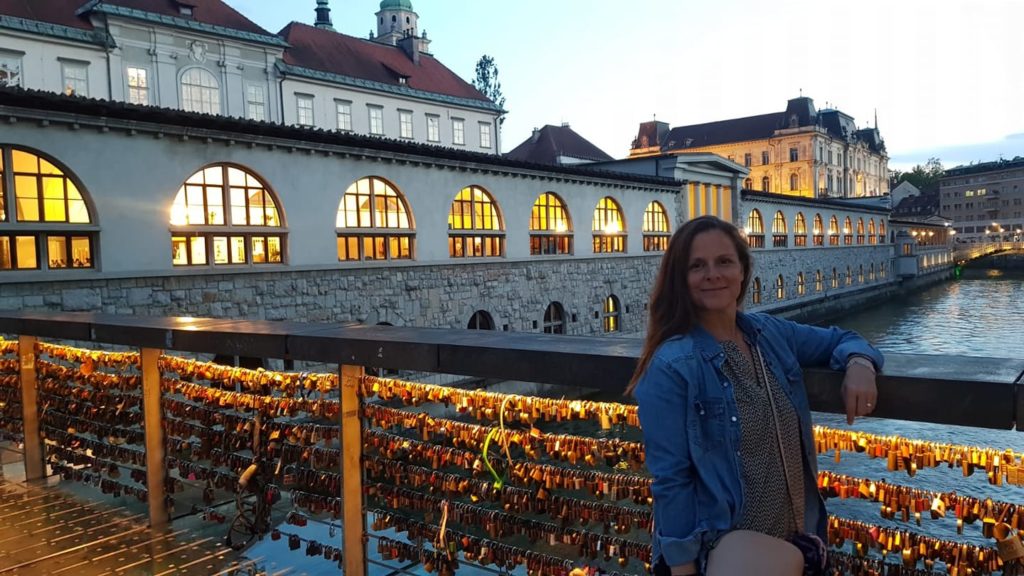 I had heard there was a lively restaurant and bar scene in this vibrant capital, but I didn't realize the food would be so "chef driven" and high end!
Friday We arrived on the train at 2:30pm. Checked into our room on the river right next to the Dragon Bridge and headed straight to the Market. There was an event called Open Kitchen that apparently goes on every Friday until 9pm all summer long! This was no ordinary street food fest. We're talking whole roasted pigs, giant pans of Paella, handmade pasta with fresh local truffles, roasted mussels and wine carts with the famous Slovenian Orange Wine – white wine grapes that have been macerated and left to ferment with skins and seeds. The result is a unique, fresh wine that's not unlike Belgian Beers. They are mostly considered natural with little or no additives and pair well with a variety of foods from cheese, seafood and pasta to bolder more "cultural inspired" dishes. They are quite diverse and make for a nice change. If you are looking to impress your next dinner guests, serve up Slovenian Orange Wine.
5pm After a couple hours at the Market we walked up the hill to a perched castle looming over the city. At this point the town was reminding me of Montreal …One of my all time favorite cities ever. We strolled through the park surrounding the castle and eventually made our way to our previously booked wine tasting.
6-8pm For the next 2 hours we learned all about Slovenian Wine and tasted some of it's local varieties. The tasting had me already wishing we had more time to explore this quaint country where everything seems to be about an hour away, including the Adriatic Sea! I was glad we did the wine tasting on the first night so I knew what to look for on menus the rest of the weekend.
8pm – we headed back to Open Kitchen for another round of snacks before closing at 9pm. Since it was only just now getting dark, we were thinking it should really stay open until 10, but you know me, I always have an idea of how to make things better …better for me at least. We caught some live music at an open air cafe on the river and called it an early night.
Saturday "JAGERMEISTER!" was what I woke up to at 4:30am …Drunk guys shouting and banging to be let in next door. While we were staying in a cute little guest house, unbeknownst to me, there was a hostel next door. Good thing I had gone to bed early.
7am – Since we were awake (I never went back to sleep), we decided to head out early to take advantage of the morning light for photos. We grabbed some some fresh cherries at the Farmer's Market, washed them in one of the many city wide fresh water drinking fountains so prevalent in Europe and ate them in the plaza. The remainder of our Breakfast and more coffee (first coffee is always in our room) was at the quaint Slovenska Hisa on the river and consisted of homemade bread, house made herbed cheese spreads, crunchy pickled veggies and mashed buckwheat. We spent the next several hours walking, walking, walking!
1-3pm – Time to stop for a break. I was starting to crash and needed a nap from my early rude awakening. I wanted to eat lunch before my nap though since we had an 8pm dinner reservation and I wanted to be hungry. Lunch was outside on a pedestrian street under the umbrellas at Gault & Millau rated restaurant Valvas'or and was a fabulous truffle risotto with seared scallops and a crisp Pinela white wine. Chris had an amazing Sea Bass and truffle mashed potatoes. All was delicious and definitely warranted the siesta!
3-5pm – Chillin' in the room! On most trips I almost always spend some time back in the room in the afternoon. I actually hate afternoons. It's my least favorite time of the day unless I'm sitting by a pool. I take a nap, read, rest my feet, do legs up the wall, shower and basically refresh for the evening while I wait for the sun to drop and hit that magical Golden Hour. It was raining too, which made it even more perfect to relax.
7pm – Slow stroll to our dinner which was at yet another fine dining establishment. Manna is a 200 year old restaurant on a leafy green street. While the food was delicious, the atmosphere was quite dated and even though the Queen of England and Laura Bush have both dined here, it wasn't exactly our style, but it certainly didn't keep us from enjoying the Creamy Roasted Garlic Soup topped with a celery foam, grilled fish, fresh local asparagus and of course …Orange Wine!
10pm – Gelato, strolling and another nightcap on the river walk. Where am I? Italy? Close!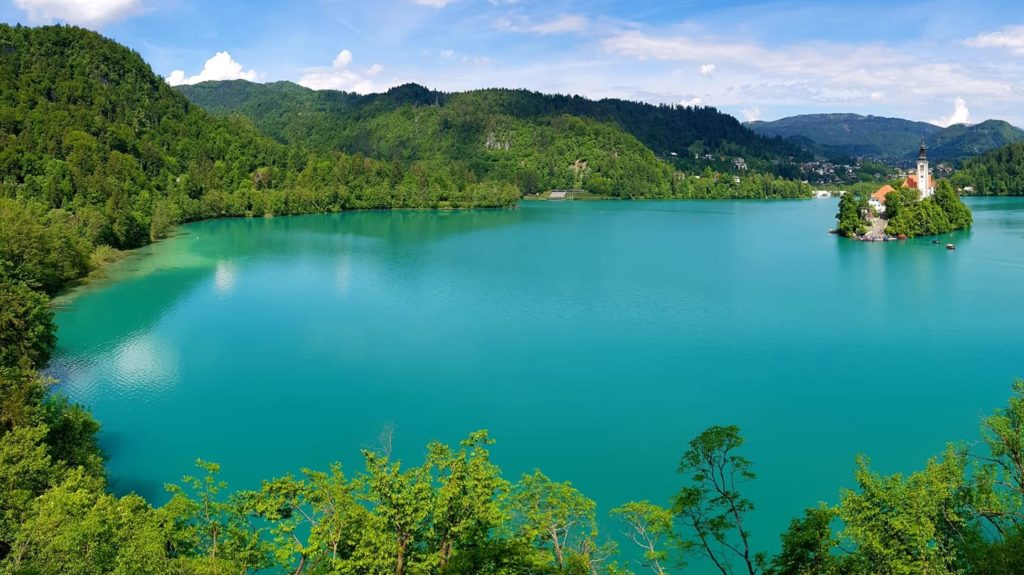 Sunday 8am – check out of room and head to Lake Bled before heading back home. It's been on my personal WanderList since before it became Insta-famous and it's turquoise blue waters did not disappoint! The Glacier Lake is surrounded by lush, green forests and a small holiday resort town offering a variety of day trips. I'm bummed to have missed the Vintgar Gorge, but I learned a long time ago not to dwell on what I didn't see and be grateful for the amount of time I did get to spend in a place. 48 hours in Ljubljana will have to suffice for now, but mark my words this hidden gem of a country will not stay a secret much longer so get there sooner than later! No, I wouldn't make it a destination in and of itself (unless you live in the area), but definitely an add on when visiting neighboring countries. You are sure to be surprised and delighted!