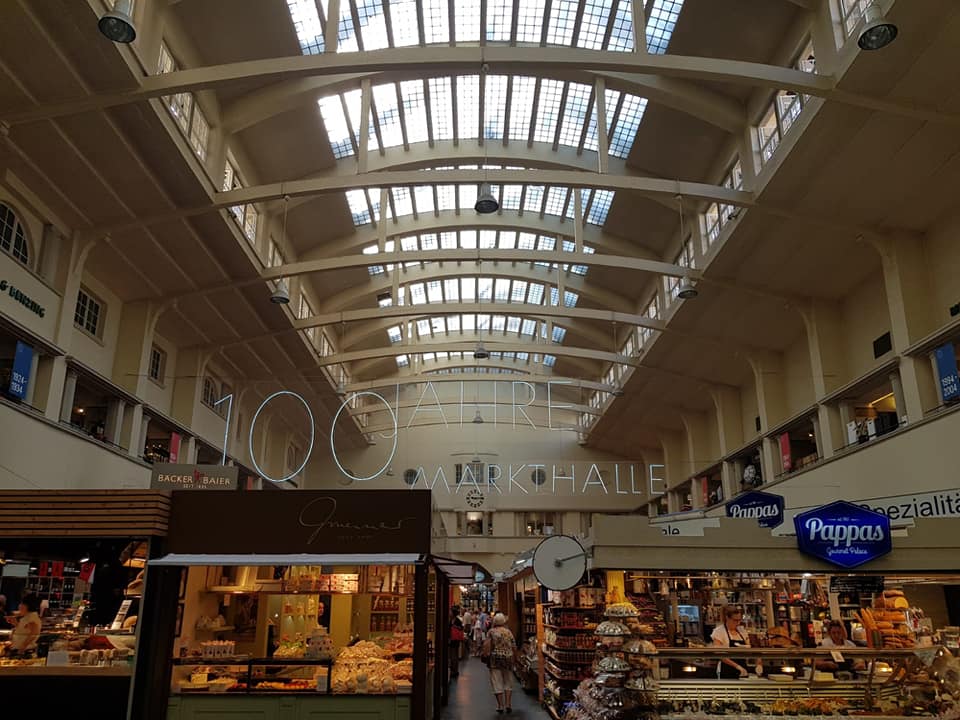 48 Hours in Stuttgart, Germany
While I wouldn't necessarily consider Stuttgart a destination all it's own, we had an amazing 48 hrs there! When we saw The Rolling Stones were on tour and we had never seen them before we decided to scoop up a couple of tickets at the closest, most convenient location to us in Innsbruck. I had only ever heard of Stuttgart because a friend (Sandra) had lived there for a couple of years, but I really knew nothing about it. A quick search on the internet looked like we could easily kill a weekend there.
We arrived on Friday night just in time to check into our incredibly convenient hotel (literally at the train station), drop our bags and zip out for dinner and drinks. We found Carl's Brauhaus right off the famous pedestrian street (apparently it's the longest of it's kind in Europe) and sat just across from the Schlossgarten park – a picturesque green square with two beautiful fountains and a gazebo. The traditional food and lively atmosphere did not disappoint. I was also impressed the Brauhaus only served local wine since right away we had noticed the town was set amidst rolling hills of vineyards. The vineyards literally come right up into town so it was nice to see the menu reflecting the local viniculture. I'm sure there are some great wine tours and tastings to be had, but that was not on our agenda this time around. I did make sure to drink only local wine throughout the weekend though as an alternative. After dinner we strolled around the square, took in the atmosphere and found a spot for a nightcap. Exhausted after the 6 hour journey we headed back to the room to collapse and rest up for the big day ahead.
SATURDAY – We almost always wake up by 6am, but today we slept in until almost 8! I was anxious to head to the market for coffee and breakfast. The Markethalle (as it's called in Germany and Austria) was exactly what you may imagine. Several stalls selling the usual produce, bread, cheese, meat, wine and sweets. The entire second floor of the market is comprised of a fantastic department store not to be missed called Merz & Benzing. I was looking for a giant old wall map that I had seen in a photo of Sandra's, but to no avail. In regards to the market, I'm always intrigued by the elderly people I see drinking wine at 9:30 in the morning! Good for them, I just can't do it. Especially not on Rolling Stones Day. I was super stoked though to find my favorite cheese Brillat Savarin from France and this particular one was covered in crushed peppercorn! I got a small chunk of it for less than 2 Euro and a bread roll to make a sandwich. We made our way over to another park to sit and eat. This park happened to have a flea market going on which was great after breakfast to find some more coffee and meander around looking at interesting eclectic treasures – old radios, rugs, light fixtures, clothes and books. It reminded me of the big flea markets in Buenos Aires and Athens only on a much smaller scale. Another stroll through the adjacent flower market in the next square over had me feeling like this was a perfect Saturday morning! On a side note I would have loved to been able to eat lunch at the market. There was a quintessential restaurant called Fischhalle established in 1914 that is most certainly the perfect place to have some bubbles and fresh delicious seafood or oysters if you're into that sort of thing. It's definitely on my list when we ever return!
Back to our room for a break and to get ready for the rest of the day. Once we left our room that would be it until about midnight! A walk through the big green Stadpark with miles of bike and walking paths made for a nice way to get over to where the concert was.
Since the concert was located at the Mercedes Benz Arena which was also next door to the Mercedes Benz Museum, we decided to go early so we could hit up the museum from about 2-4pm, watch the Argentina/France World Cup game from 4-6pm (the museum was also airing this outside on a big screen) then go to the concert which started at 7pm. The timing was perfect. The museum was a pleasant surprise. I happen to love classic cars, but the overall experience of the museum was really great from the spiral layout of the building itself (not unlike the Guggenheim in New York) to the beautiful mint condition cars and cool buses. I would say if you're in Stuttgart for anything this is a must do! Of course The Rolling Stones put on a great show, playing all the expected tunes. It's always just nice to see the legends while they are still rocking. One of my claim to fames is having seen Nirvana live in Dallas in 1991. You just never know how long these artists will be around so I like to capitalize when I can. A late night pizza and wine at a Vapiano was in order after the long day. I had actually never been to one of these franchised chains, but it was one of the few places serving food after midnight and it wasn't bad at all.
SUNDAY we got up early enough to pack up, leave our stuff at the hotel and jump on a train to the Porsche Museum. Again, beautiful classic cars on display in a modern showroom mixed with sport and racing cars from past to future. A cool aspect of this museum is getting to sit in some of the cars. You can even book a Porsche Drive, which we did not, but I'm sure it would be fun. While I did enjoy this museum as well, if you had to choose only one, the Mercedes Museum is the way to go for overall experience.
After the Porsche Museum, it was time for what we have started referring to as "Beer Gardening" – our Sunday afternoon ritual of finding a biergarten serving traditional food (after a hike or bike ride of course). Yeah I'm into gardening…beer gardening, that is! Sandra had recommended Ochs' n Willi for a classic schnitzel. I tried to "order light" by getting a baked potato served with broccoli and cauliflower which ended up being not one, but two giant potatoes loaded with a decadent sour cream herb sauce. It was really good and Chris ended up eating the other potato with his schnitzel. Thanks for the reco! Needless to say we were stuffed and ready to pass out on the train back to Innsbruck, but first a quick stop at the Old Castle to have a look and snap some pics. We also stumbled upon the Music Museum which was free to get in and had some cool unique old instruments. Chris is always dragging me to these places that I never look forward to going, but am always glad I did.
All in all, we were happy with our weekend and while I wouldn't say "Hey let's go back to Stuttgart" anytime soon (mostly due to time) I can definitely recommend it if you have a concert, event or conference to attend or even if you're traveling through Germany and have a couple extra days. It made for an absolutely memorable weekend that I will look back on fondly.