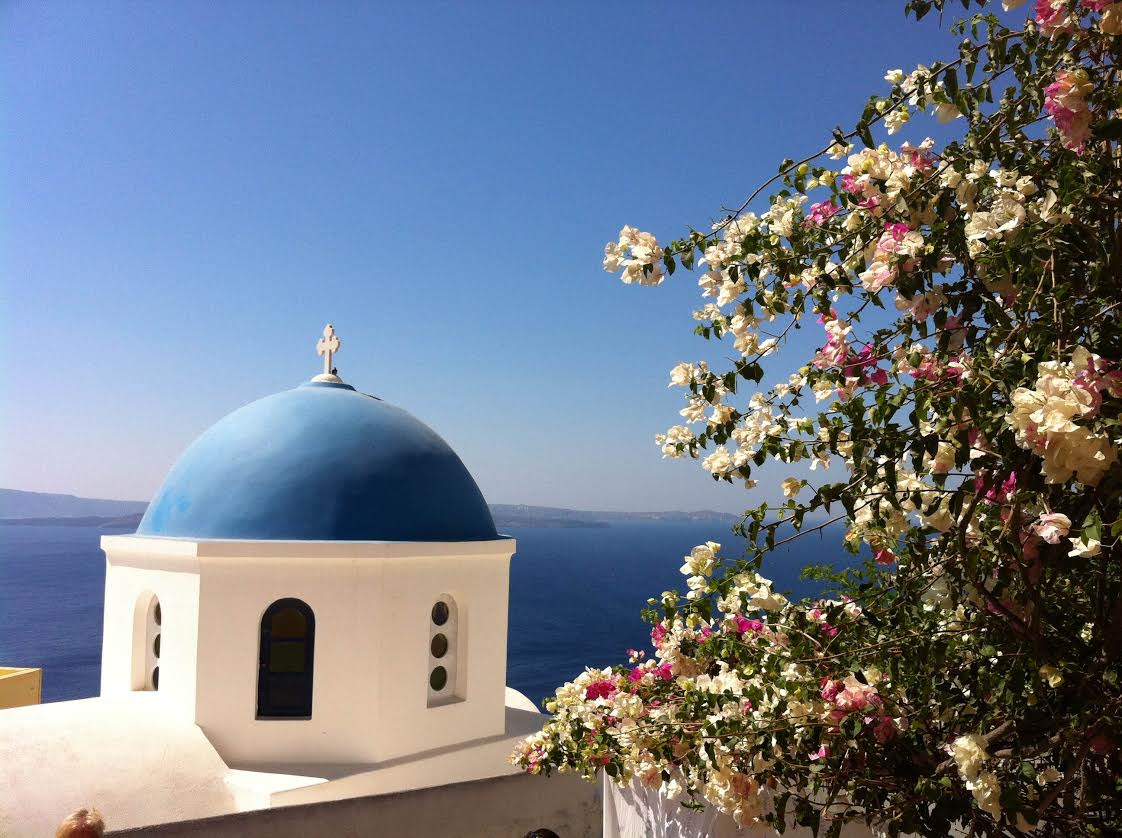 Santorini is stunningly beautiful. I've been 3 times on yoga teacher trainings with Drishti. It's the definition of magical. I would say people visit Santorini mostly for caldera views, sunsets, boat trips, food, shopping and wine. It isn't really known for it's beaches but Perissa and Kamari are nice and worth a visit.
Favorite activities:
2 hr hike between Oia & Fira
Ammoudi Bay for lunch – the fish tavern is a great spot.
Take a cruise w Santorini Yachting Club – I've done both the full day and the sunset and they were both fantastic!
The best white wine to drink is the Assyrtiko – very crisp and refreshing with a mineral character perfect for a sunny lunch.
Here's a great afternoon off the beaten path…
Have a leisurely lunch at Pelagos Hotel across from Baxedes Beach (a cab driver will know).
Tell Antonis and Markos I sent you. Chill out by the pool for a while. Drink an espresso Freddo.
Stroll to the church behind the hotel for a great view – it's about 15 minutes up.
Definitely go to the  Sigalas Vineyard (15 min walk from Pelagos or 5 min drive) – do a tasting and they also have good snacks and cheese plates if you haven't eaten. This is the best vineyard on the island for an overall true vineyard experience.
Santos Winery is nice simply for the patio/views. Big bus tours go there, but it's worth a stop for the breeze and views.
For a unique and rustic wine experience head to Gaia Winery which is also near the Crazy Donkey Brewery.
For another off the beaten path adventure head up to the mountain town of Pygros. It's cool and quiet with no crowds and there are a couple good restaurants up there too.
Restaurants 
OIA – the best time to be there is 10am before the buses start rolling in, but of course you can't miss a sunset! 
Floga – great views of the caldera. Nice for dinner, but I mostly just remember the wine, tomato fritters and views
Fino – no views, but good food & drinks
Ochre – cocktails, sunset, dinner
Passagio – good for coffee, but also wine bar in evening
Lotsa – stop in for a quick bubbly w views. I just love the little corner spot.
Red Bicycle – for a nice dinner with views
FIRA
Argo in Fira  – cocktails, dinner, sunset views , trendy and cool
Tango for cocktails
Naoussa – traditional taverna food, views
Casablanca – good music, lounge, but seriously doesn't get started until after midnight
Do not miss Imerovigli 
For an unique Spa experience go to Avaton – massage, wax, sauna, steam and hang out in the cave-like dipping pools.
Very quiet and relaxing. After your treatments have a wine and enjoy the incredible views!
Skaros Rock is really cool if you feel like a walk. Eat dinner in Imerovigli for a change outside of Oia and Fira.
We went to La Maison. There's a jazz bar in the town too.