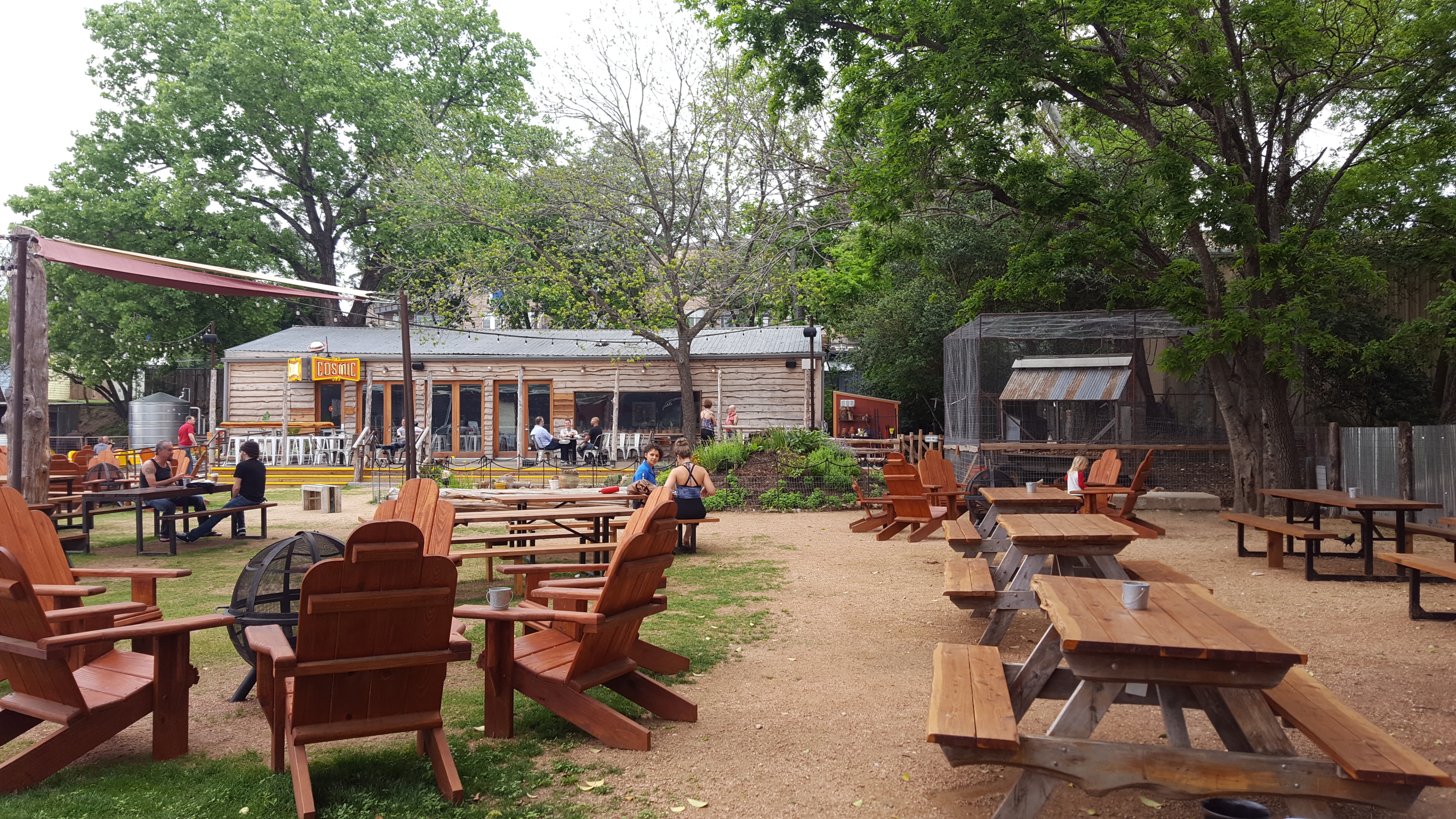 Disclaimer: I'm originally from Arlington 2.5 hrs North of Austin, but I'm thankful my Mom now lives in Austin so when I go "home" that's where I land.
Austin lives and breathes outdoor life, even on 100 degree days! There are so many great patios that remind me of growing up in the backyard of my Grandparents house. Sometimes I miss those days, but I sure don't miss the heat.
In many cases, it's not even the food that is so great, but the overall experience and feel of a place that is classic.
Shady Grove 
– one of my all time 
faves

.
 Thurs nights live music starts in April. Mark your calendar!
Guerro's – I just love going here for chips, dips & beers esp for the live music outside – even if you don't like the specific band playing, it's a fun atmosphere.
Boticelli's (Italian) – secret back patio if you're in the mood for wine.
Rainey Street 
is a fun historical neighborhood where the houses are converted to various restaurants/bars with shady yards or patios.
SOCO (short for South Congress Street) 
Basically anywhere here
 is fun for shopping, eating, drinking or live music! When in doubt head to SOCO and just walk around. 
May – October watch the bats emerge at sunset – 1 million Mexican Free Tail Bats call Congress St. Bridge home. So long Mosquitos!
Hop Doddy
 for burgers – if you go around 4pm there's no wait! They really are good (2 veggie options) and their green chile queso is to die for!
Catch some live music at the Continental Club. James McMurtry still plays there on Wed nights. 
Thursday nights outdoor market at SOCO is a must go!
Outdoor Activities:
Mt. Bonnell – Quick walk/nice view
Town Lake  – 
Bike or walk the full loop
(10 miles) or create a smaller loop by crossing the various bridges.
Kayak, canoe or SUP the same lake.
Zilker Park – large, green open park where ACL takes place every October. Off leash areas avail. for the pooch. 
Barton Springs or Deep Eddy for the infamous dip.
There's also tons of outdoor swimming holes and State Parks within 30-60 min of ATX: Look up Hamilton Pool, Blue Hole and Jacob's Well in Wimberely, Mckinney Falls State Park, Pedernales Falls, Enchanted Rock and Dripping Springs.
TEX MEX – this could be a long list, but I'll try to keep it simple:
Pulvo's
– Authentic Mexican breakfast complete with warm homemade tortillas and a salsa bar.
Maria's Taco Express – since 1996 this famous eccentric eatery has been the "taco queen" as well as hosting Hippie Church and live music.
Torchy's Taco's – anytime…and the queso!
Matt's – great for families and big groups.
Trudy's – the original location downtown perfect for breakfast or happy hour + snacks.
Chuy's – the original. Great spot to bring guests due to the fun, whimsical environment.
BBQ:
Franklin – famous to locals and made even more famous by the late Anthony Bourdain. Famously long lines and YES it's worth the wait!
Let's just say David Chang cried when he ate it, my Mom cried when she took a bite and I cry when I tell the story!
Stubbs – touristic, but at least check the live music schedule. The bands play outdoors in the back. We randomly caught Patti Smith there a few years ago and it was a fantastic!
Salt Lick – fancy a mini road trip? Only slightly out of town, but with a strong Hill Country feel, serves huge groups, complete with fire pits and local wine tasting room on site.
Terry Blacks – for down home flavor without any fuss this location of Barton Springs makes a convenient and easy stop.
John Mueller BBQ trailer – you have to search to find it!
Coffee, Beer & Wine:
Cosmic Coffee – handsdown the coolest with a giant yard, fire pits and free yoga on Tuesday mornings!
Radio Coffee & Beer – and yet another awesome spot with shady trees and food trucks.
Spokeman Coffee – modern design for specialty coffee and preparation (if you're into that). In a trendy "new" area called St. Elmo
Third Coast Coffee – small roaster (to buy bags for home).
Breakfast: Kerbey Lane – what started as a house in 1980 has now developed into 7 locations around the greater ATX area.
+ Dessert:
Vespaio on Soco for Italian treats
Magnolia cafe – breakfast (is busy) or stop by later for pecan pie, carrot cake & unlimited coffee!
Hey Cupcake – airstream trailer
Sugar Mama's – Southern homemade favorites better than Grandma's.
Coolest Quirky Bars – You've just gotta see these places to understand!
Mean Eyed Cat – Johnny Cash themed bar
Donn's Depot
Spiderhouse Cafe
Tiniest Bar in Texas
There are a plethora of breweries w good food, but
Austin Beer Garden
on Oltorf is a fave.
Wine:
The Austin Winery – also in St. Elmo near Spokesman Coffee
Wine Belly on Oltorf for wine and yummy tomato focaccia bread
Monkey Theorem Urban Winery – cool warehouse across the parking lot from Cosmic Coffee.
Quirky Markets + MISC – Austin has the best funky grocery stores and markets: 
Quickie Pickie on 11th – beer on draft, breakfast tacos, sammies, burgers and wine (down the street from Franklin BBQ).
Thom's Market on Barton Springs – great stop for a picnic at Zilker Park. 
Whip In – Indian snacks, beer and wine, outdoor patio, convenient store all rolled into one and right off the highway so you can literally just "whip in".
River City Market – better than your average convenient store with a great wine selection and delicious breakfast tacos.
Original Whole Foods – Some people don't know the empire began at a small space in Austin so it's just cool to see.
Central Market – my favorite overall big grocery store so fun to walk around and spend lots of money on things you didn't even know you wanted. Way cooler than WF!
The Mobil gas station (yep) on Congress just south of Woodward has the best beer selection, you would think you're in a craft beer market! 
MISC:
Book People book store
Lots of Food Trucks everywhere – East 6th, 11th South First, Barton Springs, St. Elmo
So many vintage and used clothing stores. Just gotta look them up! 
Uncommon Objects – a must for wandering and milling about featuring an eclectic array of antiques, jewelry, taxidermy gadgets & toys.  
Bead it! – biggest and best selection of tchotchkes and beads for all your DIY projects. 
Insider Tip: 
East Austin – where to begin? So much has popped up here just in the last year. There's pretty much every kind of bar, restaurant and brewery you could want!  Go early, find a place to park and just spend the evening hopping around. 
p.s. the 6th street downtown is what locals refer to as "Dirty 6th" East 6th is the cool part. It's where you'll find tourists, jocks, drunks and maybe see a fight. It's like a mini Bourbon St.